St Francis Auto Repair
M&S Automotive offers auto repair services to St Francis, WI
From brakes to oil changes, M&S Automotive is the best place to go for auto repairs in St Francis. We have pro mechanics ready to get your car or truck back on the road fast. Our team is ready to help you at any time, with cost-conscious, convenient and friendly repair services.
M&S Automotive knows that you have a choice when it comes to auto repairs and we go out of our way to prove to you that we are the best choice every time you stop by. Call us today at 414-727-7475 and schedule an appointment, or stop by 3633 W Burnham St, Milwaukee, WI, 53215.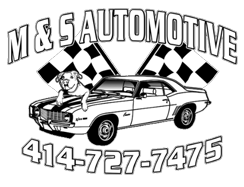 Best place in Milwaukee I know of, took my boss bus to get services over 15yrs ago and I been taking my cars there ever since!
Cartier M.