Elm Grove Auto Repair
Top Quality, Affordable Auto Repair Services Near Elm Grove - Call Today 414-727-7475
When drivers in Elm Grove need cost conscious auto repairs they call M&S Automotive. Since 2004, M&S Automotive has been delivering professional and competitively priced auto repairs to the Elm Grove area.
M&S Automotive provides top-quality auto repairs to keep foreign or domestic cars and trucks running at peak performance. Call M&S Automotive near Elm Grove at 414-727-7475 for fast, affordable auto repairs. Customer satisfaction is our goal!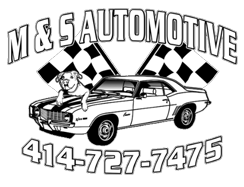 Great old school mechanic who will be honest and help you prioritize repairs. They will tell you if they can't do what you need and work with peeps. Very old style service! Also a very dog friendly joint! They support several animal charities in the area! Take your friendly pup! They have treats!
Cindy Steinle